Paying tribute to the history and culture of our Hmong growers and supporting them in response to the effects of COVID-19
The Community Cook Up, a collaboration between Eat Well Tasmania, The Migrant Resource Centre Kitchen and The City of Hobart, showcased several recipes developed with the Hmong community in celebration of their summer produce.
Wandering through the Salamanca Market on a Saturday morning you'll find the Hmong producers; their stalls packed with fresh and tasty veg. Amongst the carrots, beans and the familiar favourites of broccoli and beets are some unusual varieties—Shiso, Amaranth and Thai Purple Basil are just some of the specialty herbs grown by the Hmong Community.
Speciality varieties can make shoppers unsure. Together, with the MRC Kitchen and Hmong Community, we set out to de-mystify these common Asian herbs and ensure market-goers head home confident and eager to discover the joys of cooking with Hmong produce.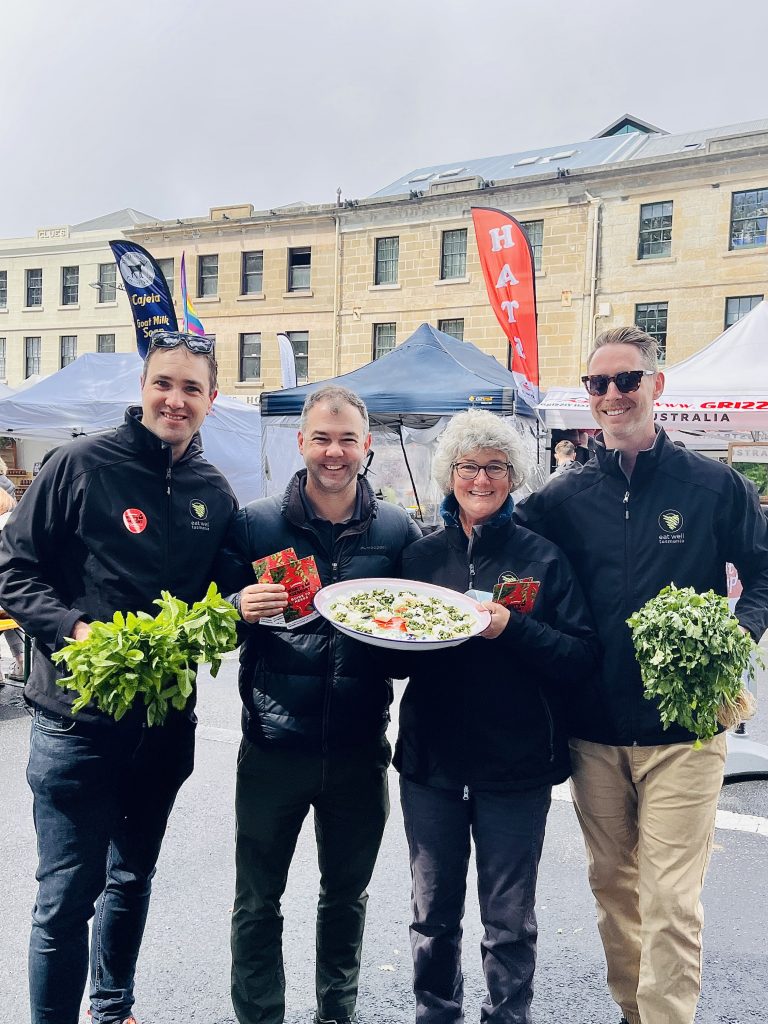 Pictured above: The Eat Well Team serving up Larb at The Community Cook-up.
Kang Kong—also called water spinach—is a luscious green vegetable with a mild flavour. Kang Kong can be found all year round at the Hmong produce stall and is perfect as a salad base or tossed through stir-fries.
Using Kang Kong as our base, we created a seasonal Larb (Larb meaning 'good luck' or 'prosperity' in Hmong culture). Larb is a traditional fragrant herb salad, often featuring finely minced meats or tofu and accompanied by punchy flavours of chili, lime and fresh herbs.
Next we whipped up a quick and easy No Waste Stir-fry—a recipe from the MRC Kitchen and inspired by the Hmong community. Hmong people dislike wasting food and when herbs and vegetables are used in cooking, the whole plant is used (stems and all). Customers were surprised to find often overlooked parts of the veg (beetroot leaves and herb stems) to be tasty and flavourful, as we served up mini tasters of our No-Waste Stir-fry (pictured below).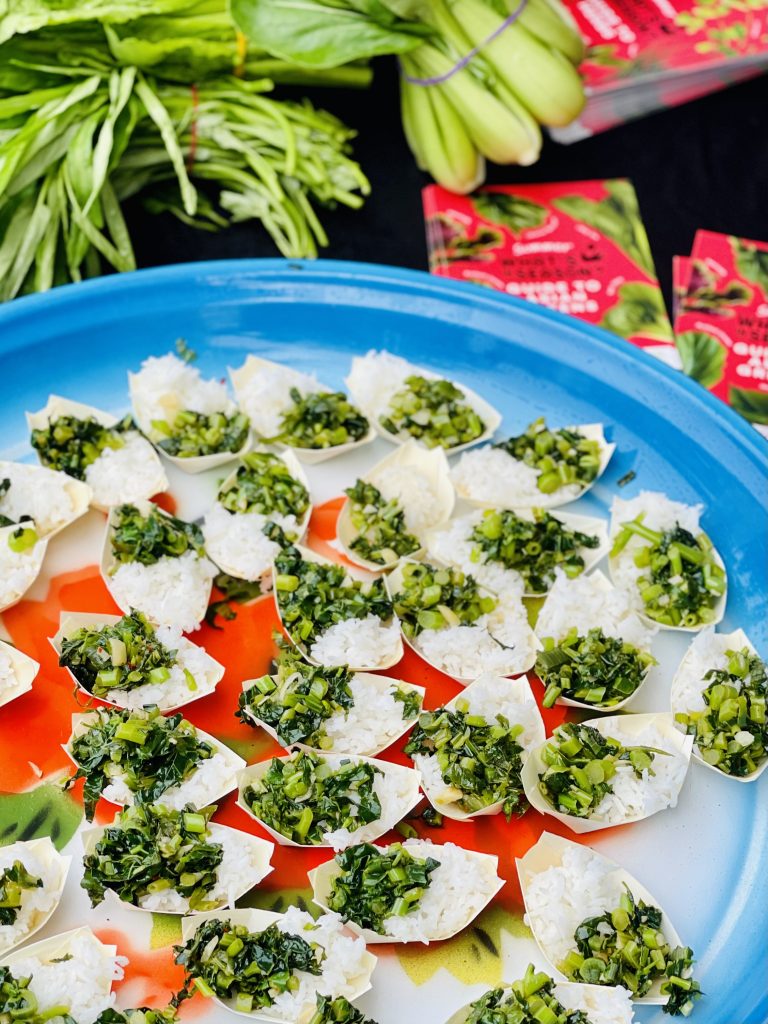 Our No-Waste Stir Fry is packed with seasonal Hmong produce and makes the most of the whole veg—nothing goes in the bin!
The Community Cook-up recipes can now be found here, for you to try and enjoy at home.
The Community Cook-up is a collaboration between Salamanca Market, Eat Well Tasmania, The Migrant Resource Centre Kitchen and the Hmong community growers who can be found each Saturday in the fresh produce section of Salamanca Market on Gladstone Street.